Since 1959, Tyler Business Services has been serving the Washington, DC Area with all of its printing, mailing and communication needs. We deliver top quality printing and marketing services to some of the top businesses, nonprofits, schools, associations and government organizations in Washington D.C., Alexandria, Northern Virginia and the surrounding area. 
From marketing strategy, design, printing, mailing, data base entry & management and fulfillment, we're a full-service marketing partner, and we can help you from the first seeds of an idea to the final execution. We offer next day and even same day turnaround on many of our quality printed products. 
We are a woman-owned, second-generation family business located just outside of Washington D.C. in Alexandria, VA. We are also a preferred vendor for many government agencies.
Tyler Promote is offers clients a wide range promotional products. We are committed of providing excellent service as well as assistance in finding the prefect product(s) for your event, conference, customers and/or employees. Click on the image above, or visit our promotional product site here.
Gear up for Thanksgiving with 7 Marketing Ideas
Posted on 11/06/2017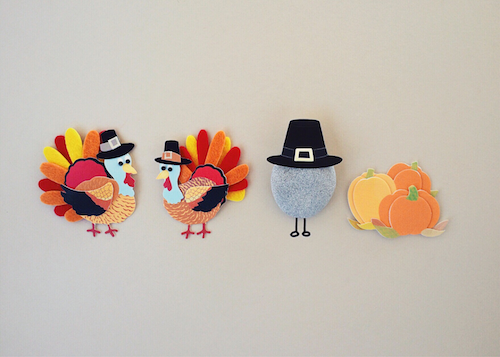 Happy November! Thanksgiving is just around the corner, which means the air is filled with the smell of pumpkin pie, cranberries and turkey. But for small businesses, it means the holidays are arriving, and so is the season of marketing efforts.
Thanksgiving season and Black Friday are the perfect time to jumpstart your marketing efforts into the holiday season. Whether you're a small business owner, employee or professional individual, gear up for Thanksgiving this holiday season with these seven marketing ideas.
1. Give away a Thanksgiving dinner.
One great way to market your business and boost sales this month is by offering a free Thanksgiving dinner. Whether it's through a drawing, competition or the first number of customers to purchase a certain product, market a Thanksgiving dinner as a potential prize for customers to win. This is a fun and entertaining way to get customers engaged, whether they're single or an entire family.
2. Offer pre-Black Friday sales.
Everybody promotes their Black Friday sales, but you can get ahead of the curve this month by offering pre-Black Friday sales. Having a few smaller sales beforehand will get customers and clients excited to try your product or service, then get an even bigger deal during Black Friday or Cyber Monday later this month.
3. Market retail therapy.
Holiday shopping can be incredibly stressful, so use this month to market for clients to skip the holiday stress by starting their retail therapy early. Destress from the holidays by getting things crossed off the list early through retail therapy sales.
4. Promote a Thanksgiving fitness challenge.
The holiday season—Thanksgiving in particular—tends to add a few extra inches around the waistline. Promote your business or professional image by sharing a Thanksgiving fitness challenge with customers and potential clients. Perhaps the challenge is to lose a certain amount of weight over the holiday season. Share the challenge and then offer a prize to the winner which relates to your mission.
5. Share a photo sweepstakes.
With the rise of social media, photo contests are a great option for guerrilla marketing for your business. Share a contest through your Facebook, Twitter or LinkedIn and ask clients to post their individual photos with you tagged in it. The post who gets the most likes can win a prize. Your products or services get promoted all across social media from different outlets, at little to no cost to you.
6. Send out email marketing.
This is the perfect season for email marketing. Take advantage of the fun and festive fall colors, fonts and graphics to send out engaging and creative marketing emails to your client base. Start now and lead into Thanksgiving, followed by Black Friday, Christmas and the upcoming new year with interesting emails that pull people in and grow your business.
7. Donate to a local cause.
Finally, there's a reason this is the season of giving. Donate to a local cause in your community to share how you or your business give back. This will make customers feel more personally connected to you, and more likely to try out your products or services.
Thanksgiving is just around the corner, so get your marketing efforts off to a great start by trying out some of these ideas this month and see how you can grow professionally.