Since 1959, Tyler Business Services has been serving the Washington, DC Area with all of its printing, mailing and communication needs. We deliver top quality printing and marketing services to some of the top businesses, nonprofits, schools, associations and government organizations in Washington D.C., Alexandria, Northern Virginia and the surrounding area. 
From marketing strategy, design, printing, mailing, data base entry & management and fulfillment, we're a full-service marketing partner, and we can help you from the first seeds of an idea to the final execution. We offer next day and even same day turnaround on many of our quality printed products. 
We are a woman-owned, second-generation family business located just outside of Washington D.C. in Alexandria, VA. We are also a preferred vendor for many government agencies.
Tyler Promote is offers clients a wide range promotional products. We are committed of providing excellent service as well as assistance in finding the prefect product(s) for your event, conference, customers and/or employees. Click on the image above, or visit our promotional product site here.
Celebrating International Fun at Work Day
Posted on 04/01/2019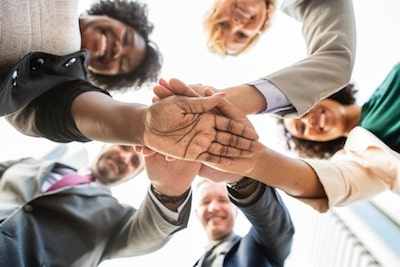 Wow, work is so boring and terrible. Today is the worst day ever… April Fools! Not only does the first day of April mark the hilarious pranking holiday, but it's also home to International Fun at Work Day. Unfortunately, too many people across the world do not enjoy their jobs. This should be the complete opposite, since the average person will spend approximately 13 years and two months of their lives at work. 
In fact, having fun at work boosts employee morale and can even increase a company's bottom line. According to the American Psychological Association, occupational stress costs U.S. employers an estimated $300 billion per year due to absenteeism, illness and decreased productivity. With a more positive, fun environment, companies can save money with happier employees. Celebrate International Fun at Work Day and put these ideas into action.
1. Watch a movie. For a simple celebration, poll employees to see which movie they want to watch together. Set up a screen in a conference room or general area, then take a couple of hours off to watch the movie. Even if employees are busy with work, they can still bring their laptops down, or bounce in and out of the showing to say hello. And of course, don't forget the popcorn and candy for people to enjoy.
2. Host competitions. Everyone loves a little friendly competition, right? Especially coworkers! To celebrate International Fun at Work Day, host a few competitions to see who is the best in the business. Consider a scooter race, a ping pong tournament, basketball bracket, cornhole competition, family feud or a fitness contest. Get the whole team involved for a competition everyone will appreciate together.
3. Have a cook-off. Of course, the best competitions are those involving food. Have delicious food and rivalry with a coworker cook-off. For example, a chili cook-off, dessert contest or soup-a-thon are great ways to have fun while eating together. Designate a few employees as judges, or let the whole team choose with a poll. Give the winner a gift certificate to a gourmet restaurant, or a new cooking tool.
4. Dress up. There's something special about getting all dressed up in a fun outfit. Hosting a dress up day doesn't require many resources or finances from the company itself, but it's still a great way to get employees involved and having fun. Pick a theme for the day, like pajamas or Hawaiian shirts, and invite team members to join in. For added fun, have a dress up competition to see who rocked the theme the best.
5. Go outside. Getting outside helps boost office energy and productivity. After all, a little bit of fresh air can do everyone some good. If the weather permits, take the team for a trip outside the office to have a picnic in the park or play yard games. Some favorites could include capture the flag, flag football or frisbee. No matter what you do, get outside and embrace the warmer weather if possible.
6. Give rewards. Of course, you can't have all of these competitions and games without rewards to incentivize employees. Even small gifts and prizes are a great way to get people energized and actively participating. Pick out a few trophies or rewards for your team members and encourage them to win. 
Work is where we spend the majority of our time, so we should enjoy it. This International Fun at Work Day, make sure you and your team have an awesome day that boosts employee morale and positivity. Keep these tips in mind for a day filled with fun, team bonding and productivity.