Since 1959, Tyler Business Services has been serving the Washington, DC Area with all of its printing, mailing and communication needs. We deliver top quality printing and marketing services to some of the top businesses, nonprofits, schools, associations and government organizations in Washington D.C., Alexandria, Northern Virginia and the surrounding area. 
From marketing strategy, design, printing, mailing, data base entry & management and fulfillment, we're a full-service marketing partner, and we can help you from the first seeds of an idea to the final execution. We offer next day and even same day turnaround on many of our quality printed products. 
We are a woman-owned, second-generation family business located just outside of Washington D.C. in Alexandria, VA. We are also a preferred vendor for many government agencies.
Tyler Promote is offers clients a wide range promotional products. We are committed of providing excellent service as well as assistance in finding the prefect product(s) for your event, conference, customers and/or employees. Click on the image above, or visit our promotional product site here.
Print Marketing is Still Important, and Here's Why
Posted on 08/05/2019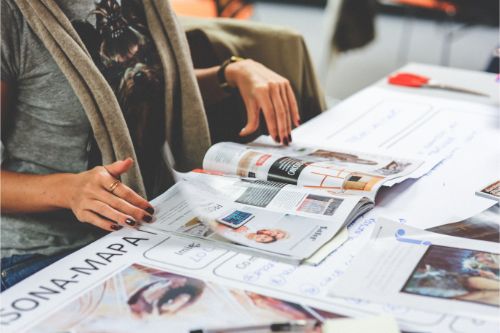 In today's modern age, you can find digital advertising nearly everywhere you look. From email marketing to sponsored social media posts, it's easy to become oversaturated with digital ads. Even billboards can be digitized these days. 
If you're looking for a way to cut through the noise of digital media, consider focusing your efforts on print marketing. A quick internet search will tell you how print media is proven to still be effective. Are you on the fence about investing in print marketing? Check out our list reasons you should be incorporating print media into your marketing strategies.
Print media are credible.
Think about the last time you saw a newspaper on a rack or a brochure at the doctor's office. They likely presented an idea of legitimacy in your head. You assumed their contents were credible. That's the beauty of print marketing; people trust it. They don't have to worry about getting a computer virus or even being retargeted just for clicking on an advertisement. 
Print materials are tangible.
Since products such as postcards, fliers and pamphlets are physically tangible, they can stick around your home or office for a while. You have the ability to put them down and come back to them as you please. Plus, they take up physical space, or "real estate." A brochure can sit on a lobby table indefinitely until someone moves it, creating more brand awareness the longer people are exposed to it.
Print products are more engaging than digital.
People like being able to physically interact with printed materials as opposed to just clicking on online ads. They often engage with them longer, too. Think about the amount of time you spend flipping through a magazine versus skimming a website. If you want to communicate important information to your target audience, consider printing it. 
Digital marketing has left a gap for print media.
Many marketers have forgone traditional print techniques for cheaper, digital ones. This has left a gap in the market for print media. You can use this blind spot to stand out from your competitors. Your shared target audience will likely remember your clever mailer instead of another business's branded email.
It's easy to target specific segments with print marketing.
With print media, you can be specific about the quantity of materials you're producing and strategically place them to target your audience. For example, if you run a company that sells hair products, you can print enough posters for each hair salon in your target area.
Even with the rise of digital marketing, print media is here to stay. Consumers trust it, it has great staying power, and it's easy to engage with. Adding print media your next marketing strategy is sure to get results.