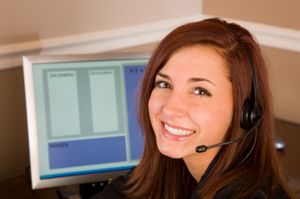 We look for many qualities in the individuals we hire -- the ability to communicate effectively, a high level of organization, strong interpersonal skills, and so on.
Regardless of an applicant's qualifications, we always look for two attributes in particular -- the desire to provide high quality products with excellent customer service and the willingness to work as a team. We can train people how to work with clients or run pieces of equipment, but to have passion for customer service and pride for your work takes a unique individual.
If these are qualities you possess, we're sure you'll find a rewarding career with us. We supply our team with the latest technology and provide a family atmosphere.
Promotional Products Salesperson
As a Promotional Products sales representative you will be receiving & making sales calls to businesses in regard to Advertising Specialties and Promotional Products. We have a large database of clients for you to contact first. No experience is needed for this position but is a plus; you will be trained on the software used. Must know how to use a computer. Knowledge of ESP Online software a +. This is a commission based position. If you are interested, please send your resume to teamtyler@tylerprint.com.