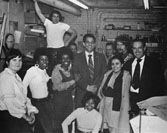 We love what we do. The passion we have for our work enables us to take ownership of our clients' projects. We constantly strive to deliver the highest-quality products possible.
There is no greater satisfaction than delivering finished products that help clients reach their goals and objectives.
Recently an independent company randomly surveyed our customers to evaluate our performance. After completion they provided us with an excellent overall rating of 92. Considering an great score is 84, we were more than pleased with our rating.
We want to be your number one source and resource!
Our Mission And Promise To You
Our mission is to exceed client expectations by providing the highest-quality product possible in a timely manner. For over 50 years, we created and continue to create long-lasting, prosperous relationships with our clients.
Guiding Principles
Tyler Business Services, Inc. was founded in 1959 by Charles R. Tyler, who still serves on the Board. In October 2003, his daughter, Kay purchased the business.
Our staff has years of experience who offer expert advice on paper, ink, design and much more. We know ways to save you money while producing an attractive piece. We have an excellent reputation for doing the work right and on time. We not only have the equipment that we keep up-to-date, we also have the supplies on hand. We are able to store your jobs for mailing. We offer specials and we keep you informed on what is new in the printing and mailing industries plus new equipment at Tyler. If we can't do the job you need in house, we have reliable contacts to get your job done for you.
We're proud of the strong roots we've built in our community. We pride ourselves on being a complete source for all of your business communications needs and have always been on the leading edge of technology. We understand that an investment in technology can actually save money by improving efficiencies.
We will continue to evolve as a diversely skilled, fast-moving team of professionals ready to learn from each other and meet whatever challenges our clients may face. We launched this cutting-edge Web site to make it easier for our clients to request estimates, place orders, check proofs, or transfer files online. We hope you find it as helpful as we do.
Tyler offers personal service. When you call Tyler, you will get a real person - not a machine. We can be your most valuable asset.
Tyler is a 2nd generation family business that is woman owned and operated. The SBA has listed us a small business concern and we have are listed as a preferred vendor by many government agencies.